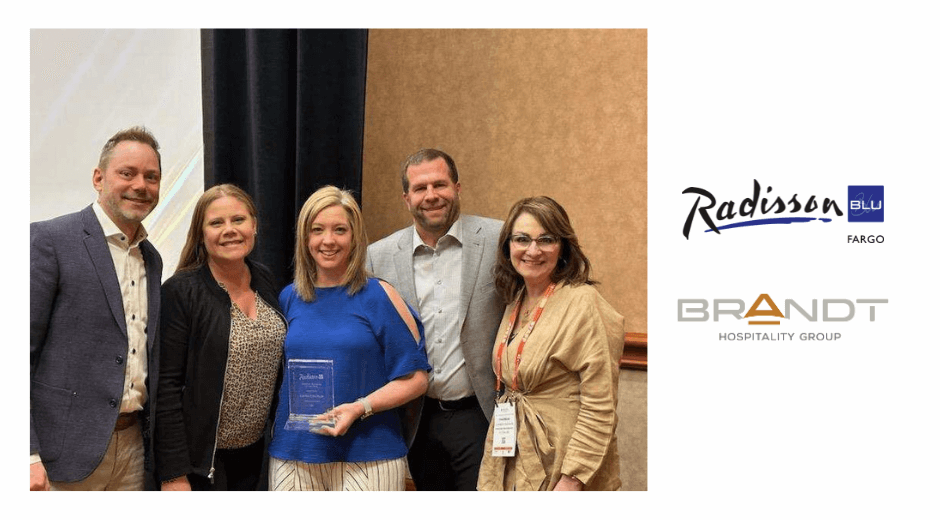 Brandt Hospitality Group is proud to announce that Laura Church, General Manager of Radisson Blu Fargo, was awarded RHGA General Manager of the Year at the 67th annual Choice Hotels Convention.
Laura Church has been with Radisson Blu Fargo since 2016. In the last 6.5 years, she has fearlessly led the team through an ownership change, a full renovation, the relaunch of 84 Italian Steakhouse, and the opening of Corner Cup.
Church started her career as an intern at the Radisson Plaza hotel in Minneapolis, working at the front desk. After years of hard work and growth – she graciously accepted RGHA General Manager of the year for her service at the Radisson Blu Fargo. "I am lucky to have the support of my family, my team, and Brandt Hospitality Group to provide the resources that were needed to make Radisson Blu what it is today," Laura said.
The Radisson Blu Fargo is located in Downtown Fargo, North Dakota. The property recently celebrated another success – receiving the 2022 Hospitality Excellence Award from Choice Hotels International. This award is given to hotels with top performing net promoter scores.
Radisson Blu Fargo is a one-stop shop for a stay in Fargo. 84 Italian Steakhouse is located within the hotel. Guests can enjoy the taste of Tuscany overlooking downtown Fargo. Guests can start their morning with Caribou Coffee served at the lobby coffee shop, Corner Cup. The property also features 5,000 square feet of meeting and event space, perfect for hosting any occasion.
To learn more about what Radisson Blu Fargo has to offer, visit https://www.radissonhotelsamericas.com/en-us/hotels/radisson-blu-fargo
This property is managed by Brandt Hospitality Group, a hotel development and management company based in Fargo, North Dakota. Brandt Hospitality Group continues to build award winning hotels from coast to coast. In 2022, Marriott awarded Brandt Hospitality Group with "Developer of the Year" and "Guest Service Excellence" titles. To learn more about Brandt, visit www.brandthg.com.