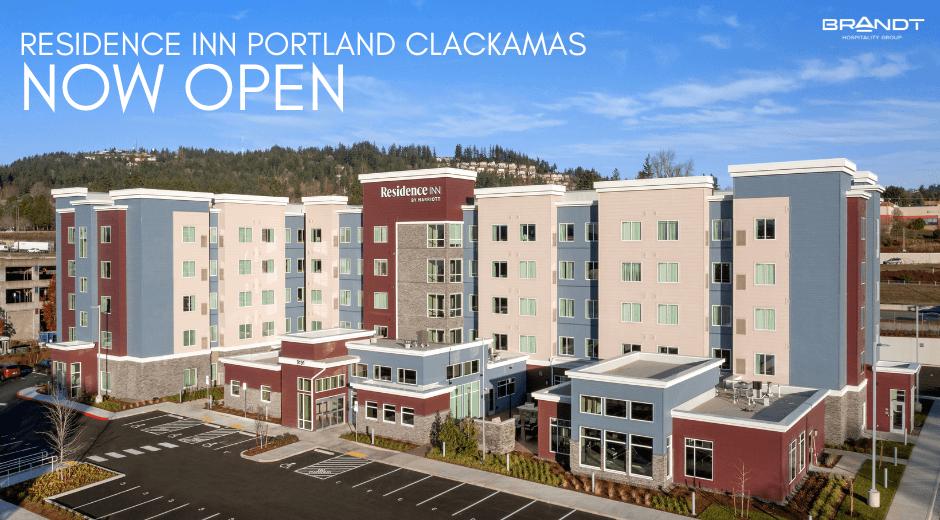 Residence Inn Portland Clackamas celebrated its grand opening on December 30, 2022. The extended stay hotel is located at 9191 SE Sunnyside Road in Clackamas, Oregon. The property team is eager to start welcoming guests through their doors. Residence Inn Portland Clackamas is a new addition to Brandt Hospitality Group's Oregon Portfolio.
Residence Inn Portland Clackamas is a 5-story building with 117 guest suites. The property features in-room kitchens, complimentary breakfast, free parking, high-speed internet, 24-hour fitness center, swimming pool, and is pet-friendly.
The hotel is conveniently located near Clackamas Town Center, the perfect place for shopping and dining. The property is only 20 minutes from the downtown metro, making it easy to check out the Portland nightlife. The property is also near many other local attractions such as North Clackamas Aquatic Park, Trillium Lake, Willamette Falls and more.
Guests traveling through Portland International Airport have a quick 15-minute drive to reach the terminal. Residence Inn Portland Clackamas is the perfect destination for business and leisure travelers alike due to its easy access to downtown Portland, the airport, and neighboring cities.
The hotel features spacious guest suites with full kitchens for guests to create their home away from home. Guests can enjoy the style and comfort of their lifestyle with added amenities to accommodate their personal, social, and professional needs. It's not a room, it's a Residence.
The management team, led by Jennifer Barnes and Jeremy Monlux, is excited to share their brand of hospitality with travelers to Clackamas. They are eager to welcome guests like family.
"We are thrilled to be a part of the Clackamas community and excited to share all the possibilities to explore with the Residence Inn," said Jeremy Monlux, Director of Sales.
Residence Inn Portland Clackamas is a part of the Marriott Bonvoy family. Members are invited to unlock extraordinary experiences with member rates, free nights, mobile check-in and more. To book your stay, visit https://www.marriott.com/en-us/hotels/pdxrh-residence-inn-portland-clackamas/overview/.
This property is managed by Brandt Hospitality Group, a hotel development and management company based in Fargo, North Dakota. Brandt Hospitality Group continues to build award winning hotels from coast to coast. In 2022, Marriott awarded Brandt Hospitality Group with "Developer of the Year" and "Guest Service Excellence" titles. To learn more about Brandt, visit www.brandthg.com.