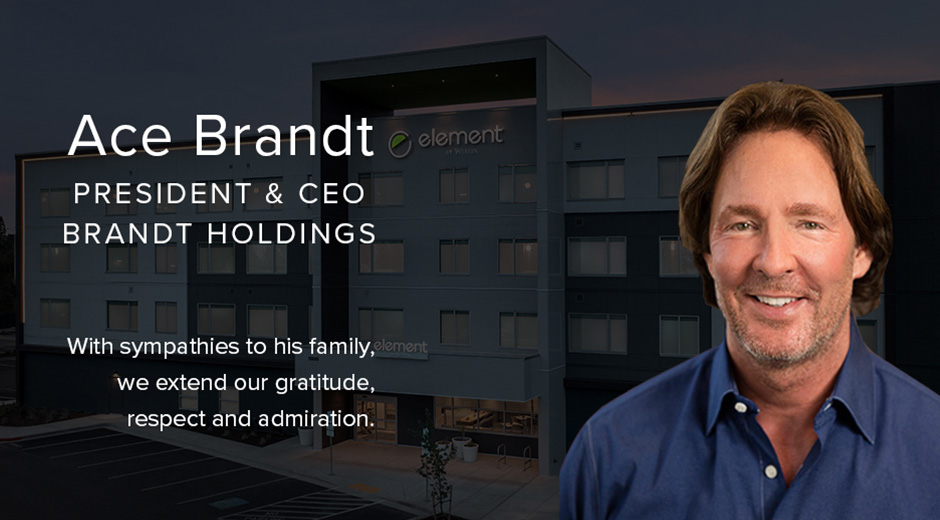 It is with great sadness that we share with you all the news of Ace Brandt's passing.  After a challenging diagnosis earlier this year, his hard fight has come to an end.  He will be missed by so many.
In these past months, his focus with our team was to ensure that we were set up to achieve his goal of Brandt Hospitality Group becoming the best hotel company in the country.  He traveled to development sites, construction sites and new hotels.  His attention was on our people as much as it was our sites and buildings.  He was impressed by so many.
We are going to miss how Ace started nearly every conversation.  "How's the team?  Everybody good?"  He placed a high value on great people and wanted to make sure that Brandt Hospitality would be around for generations to come.
At BHG, our mission remains the same, but our purpose now shifts.  We will push forward and grow Brandt Hospitality Group as a part of the legacy of Ace Brandt.  His entrepreneurial spirit will be seen in every hotel we build and buy.  We will feel his pride in our award-winning guest scores and strong profitability.  The opportunities we continue to create will be because of his support in launching our company.
Our thoughts and prayers go out to his family and friends at this difficult time.